My Christmas visit to Ireland will end in the morning. Sweden should be nice and cold when I get there. Which is as well as my New Year plans for cross country skiing will work better in snow than mud. While I was back I enjoyed some nice Atlantic winter weather – heavy downpours, strong winds, and sometimes both at once. It's why, despite the rain, umbrellas are not popular here, unless you like running down the street!
I do miss the big storms you get in Ireland, and the violent Atlantic they unleash. As a child I fondly remember driving out to the Clare coast to look at huge storm waves crashing into the land. When I moved to Sweden I discovered that in the Stockholm Archipelago people's summer houses are built right down to the water's edge. This messed with my head for a long time. In Ireland you build high, and build far back from the water – if you want to still have a house come the spring!
Experiencing and being able to deal with the worst of Atlantic weather does seem to be something we take perverse national pride in. A few years ago I was in Plano Texas and my phone woke me in the middle of the night with a weather warning. Winds of 70mph were expected, and I was advised to take shelter immediately! Two things went through my mind. The first was WTF Texas? Take shelter for 70mph? We hardly bring the washing in off the line for that in Ireland! And secondly – I need to figure out how to disable bloody push alerts on my phone.
Possibly because people are a little too blase about weather warnings, or just to make their work sound a bit cooler, the Irish and British met services agreed in 2015 to jointly name the big Atlantic storms. Each year they draft a list of 26 names for the coming winter. Storms of sufficient intensity (you know, the sort of ones where they send out Teresa Mannion) get their own name. And if they are sufficiently powerful, then the name is gifted to posterity, and retired from the long term rotation.
The Irish and UK met people have been having so much fun with this, that the Dutch met service asked to join in. So for this winter they contributed characteristically Dutch names like Gerda, Jan, and Piet to the 2019/20 list, alongside Atiyah, Francis, and the very ironic Noah!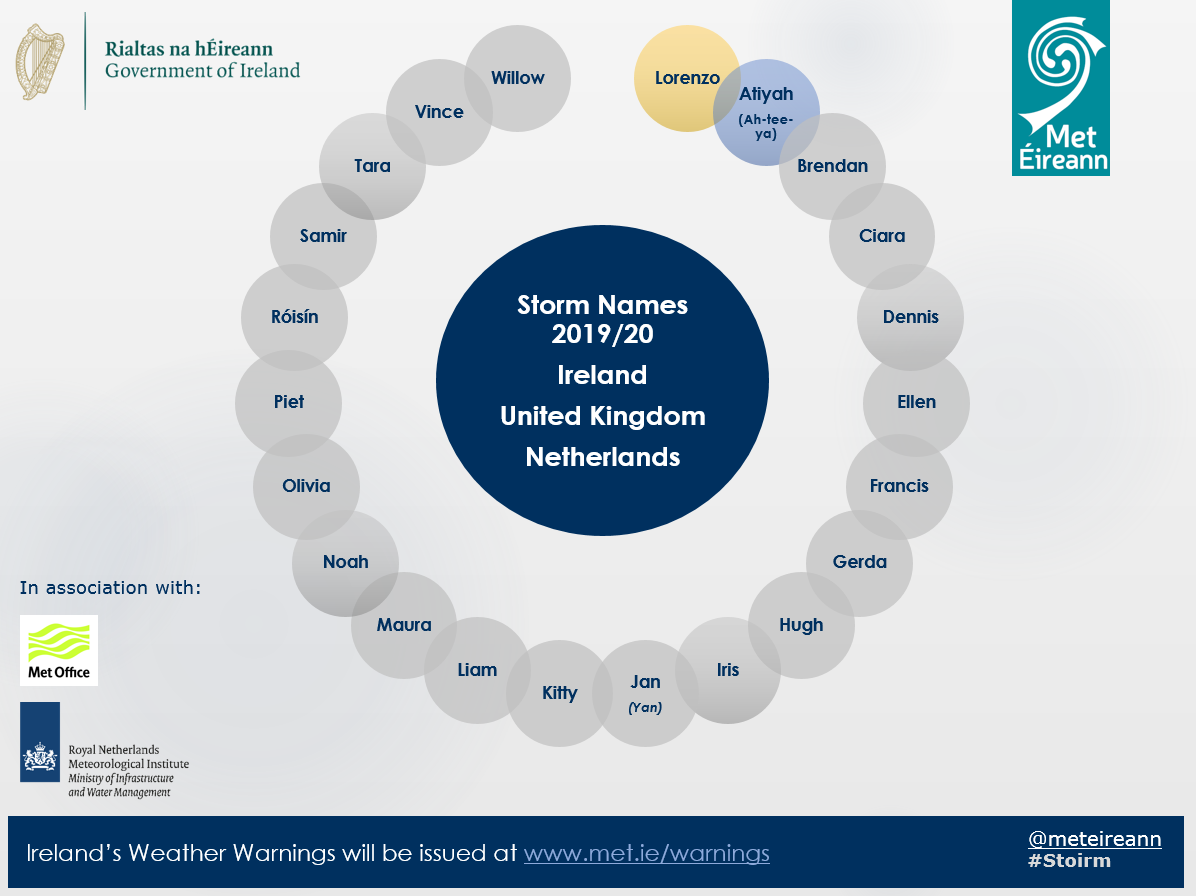 Now English and Dutch are Germanic languages, and Irish/Gaelic is a totally different language family. Which means pronunciation can work very differently. So it did occur to me that we could really have a bit of fun here.
Imagine Met Eireann insisted that we had to have quintessentially Irish names in the list. Names like Aoife, Blathnaid, Caoimhe, Daithí, Eoghan, etc. Across the UK and Netherlands, professional weather forecasters and members of the public would be trying to figure out – how they hell are these pronounced? Or are the Irish just fucking with them?