One of my pleasures when back in Ireland is wander around some book shops for an hour or two. And when I come out I am slightly more stressed about my luggage allowance for the return trip as I may will have a few extra kilos to carry with me.
It is not too hard to get English language books in Sweden. Though they can be expensive, and the selection is never as good. But I do love going into a book shop and picking up, and skimming, and coming away with 5 or 6 treasures to add to the stack on my bedside locker.
For a while I have wanted to do some reading about the Great Famine in Ireland in the 1840s. Obviously an Irish bookshop would be a better place to get books on that subject. But I was surprised to find that there are relatively few books available. Most Irish bookshops only have a handful, and often they were very local in subject matter. It can be a bit difficult to find something that is well regarded, and covers the full breadth of the famine across the country.
The two most recently published books (that were widely reviewed) were from 2013. One is "The Famine Plot" by Tim Pat Coogan. And the other is "The Graves Are Walking" by an American historian – John Kelly.
If you don't know of him, Tim Pat Coogan is a well known, but controversial historian in Ireland. He has written a number of well researched, and well received books on events in Irish history. But he has strong, and sometimes contentious opinions on the topics he writes about. For that reason I decided I would go with a potentially more balanced take in John Kelly's book.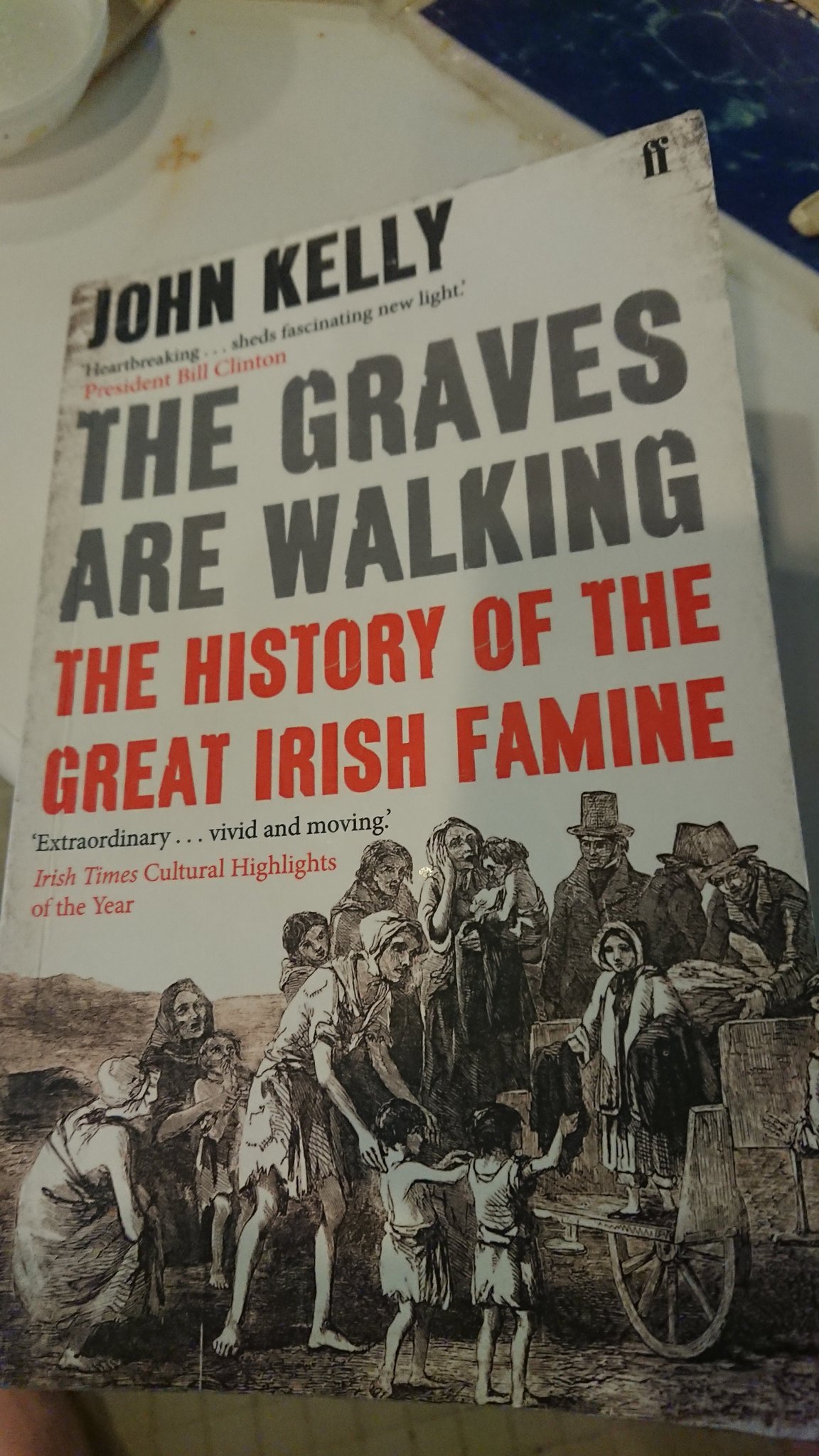 I bought the book last summer but I found I kept putting off reading it. Having an interest in history, and spending plenty of time in the west you see a lot of evidence of the Ireland that was destroyed by the great famine – ruined stone cottages. Lazy beds where you think no person could ever have farmed anything. The famine graves. I find it moving. Though it can be hard for the mind to appreciate the scale of the catastrophe that happened. Every so often you hear some little thing that reaches you about it. Like when my father pointed out that Ireland is probably the only country in the world has a lower population today than it did 150 years ago. Demographically we still have not recovered.
Before Christmas I finally started reading it. I knew it would be emotionally difficult. I didn't expect if to be so frustrating.
The books is well researched, and well written. As I read I felt it was opening up vistas to Ireland of 1845, and the horrors that were occurred. But it also leaves much unaddressed, and it came away with loads of questions.
After a good summary and historical background to the Ireland of the 1840s, Kelly quickly gets into the the failure of the potato crop. He shows how the press and the government quickly realised there was a significant problem. And he spends much of his tile going into great detail about the relief works that were started. He talks about immigration during the famine, and has many anecdotes about the death and suffering of those years. But the impression I came with was that in many ways this is half a book.
There is a problem when looking at the period. The peasants who were doing most of the dying were poor and illiterate, so they left few first hand accounts. Their experiences usually have to be recounted by others. But the book does not give you much of a feeling a personal, or even at a high level for the people who were actually suffering and dying. There are snapshot glimpses from those that observed them at the time. But even the big picture of what was happening to them seems incomplete. There is little to no information about the actual severity of the famine. It is not clear if anyone died in 1845. You can't tell how much worse was 1847 to 1846?
And weirdly having spent 330 pages covering the first three years of the famine up to the end of 1847, the book suddenly ends. You have to go into the afterword (4 pages long) to see that the starvation, deaths, evictions, and suffering continued at a huge rate until 1850. I finished it and was left wondering "where is the rest of the book? Was this the first volume of a larger work?"
If your interest is limited to the British government's response to the famine then there is a huge amount of detail. Most of the book is concerned with the relief efforts, and the politics around them. Understandably that is the area with a wealth of original documentation. But if feels like the people who were dying, the communities and the way of life that were shattered are barely touched on. It is like a book about a war that spends all its time writing about logistics and supplies and generals, rarely mentioning the civilians and soldiers experiencing it day to day.
Overall I would have to say that if you want an account of the Great Famine – one that covers the whole duration, and the national impact, then this is not the book to read. And personally I still need to find a book that gives me that picture. So with some hesitations I have ordered Tom Pat Coogan's book.
I will finish with a mention of the genocide question. There seems to be a lot of debate as to whether the famine, and the actions of the British government at the time constituted an act of genocide. After reading one flawed book I certainly am not about to offer an opinion on that. But I do know that the book that is on its way to me has an opinion on that question…